Suddenly we took the decision to watch a movie as our ophthalmology block was ended today. In Bashundhara Cineplex Transformer 2 and one bangla cinema was going on. Somehow most people voted to watch the bangla movie. Till then neither I knew the name of that movie nor the theme of that movie.
What ever, after reaching the Cineplex I came to know the name of the movie - "Gohine Shobdo" (
গহীনে শব্দ
) … and from the displaying poster of the hero and heroin I thought it would be a movie of typical bangla love story. At that time for me, movie wasn't important, we friends are watching movie together- it was more important for me!!!
after buying snacks and cold drinks entered the cinema hall and the movie started.....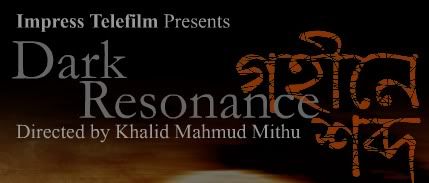 the movie started with the most popular bangla festival "poleha Boishakh" mongol jatra. Then a regular love story between 2 students of CharuKola one of them is Niloy and other one is Swapna. They both were from a very different family financially. I found a clear line of difference between rich and poor family life style which is happening in our society.
Niloy came from a very rich and educated family, where Swapna came from an absolutely different family – her father was a street beggar. Their love story continued in as usual fashion but after knowing Swapna's identity Niloy escaped from his society.....
The film ends with a song where an eminent singer arranges a concert for the beggars. The beggars circle around and move singing with lamps in their hands. The life cycle is complete.
Occasionally the life cycle is disturbed but it never stops. The human beings like Swapna restart a new life and once again the life cycle begins.
Now a days our Bangla movies are showing signs of development, hope by 2 – 3 years we will have some powerful movie director and their artistic work.
Music of this movie was nice specially the last one of singer Haider. I didn't expect anything good from the movie, but found it as a really interesting movie in the field of social differences and social struggle in society, specially the how the barrier of financial support works in case of one university student to find her identity as a Graduate or as a girl from a poor family!!!
Nice one. Good work by Mr. Khalid Mahmud Mithu and good movie by Impress Telefilm!